Feature
Inventory Management App Analysis (2): Zoho vs. BoxHero
Following the comparison with Sortly, in this second part of our inventory management app comparison, we'll be looking at the features of Zoho Inventory, an inventory management solution provided by cloud-based business software provider Zoho, and BoxHero! Check out the inventory management capabilities of both solutions and choose an inventory management app that best suits your organization's needs!
Previous Inventory Management App Comparison Series:
1. User Experience
Zoho Inventory: It's an all-in-one solution that integrates not only inventory management but also procurement, sales, and shipping management. In the dashboard menu, you can see at a glance sales activities divided into four steps (packaging, shipping, delivery, settlement), inventory summary, out-of-stock products, popular products, order volume, etc.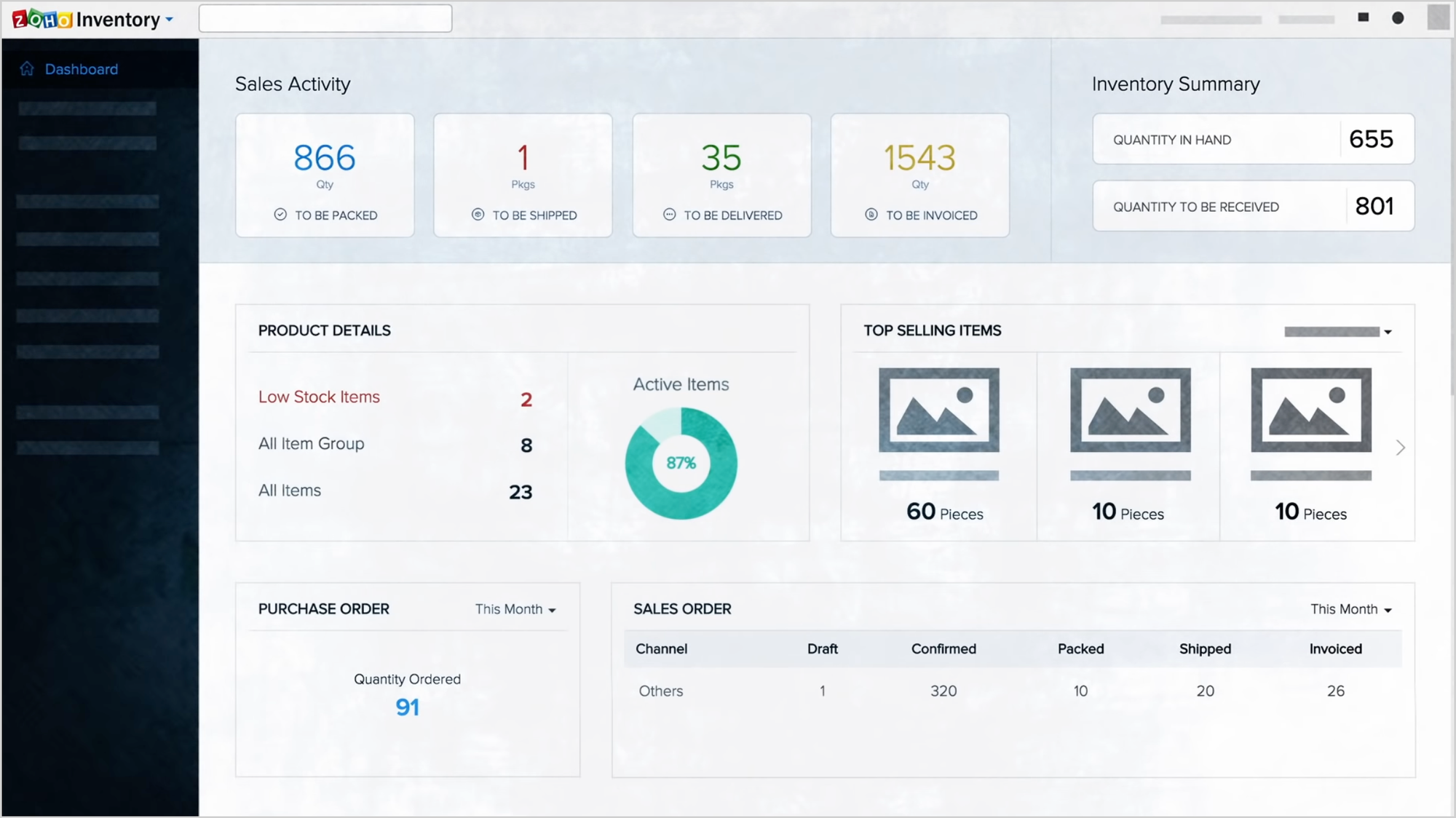 While it's convenient to manage the entire sales process in one place, the multitude of features can make it slightly inconvenient to quickly understand inventory information. To manage inventory, you have to go into the product menu and check the inventory status and history for each product. Also, when adding a product, you need to fill in pre-defined fields like SKU, unit, size, weight, brand, manufacturer, etc., which can hinder the use of existing inventory management documents.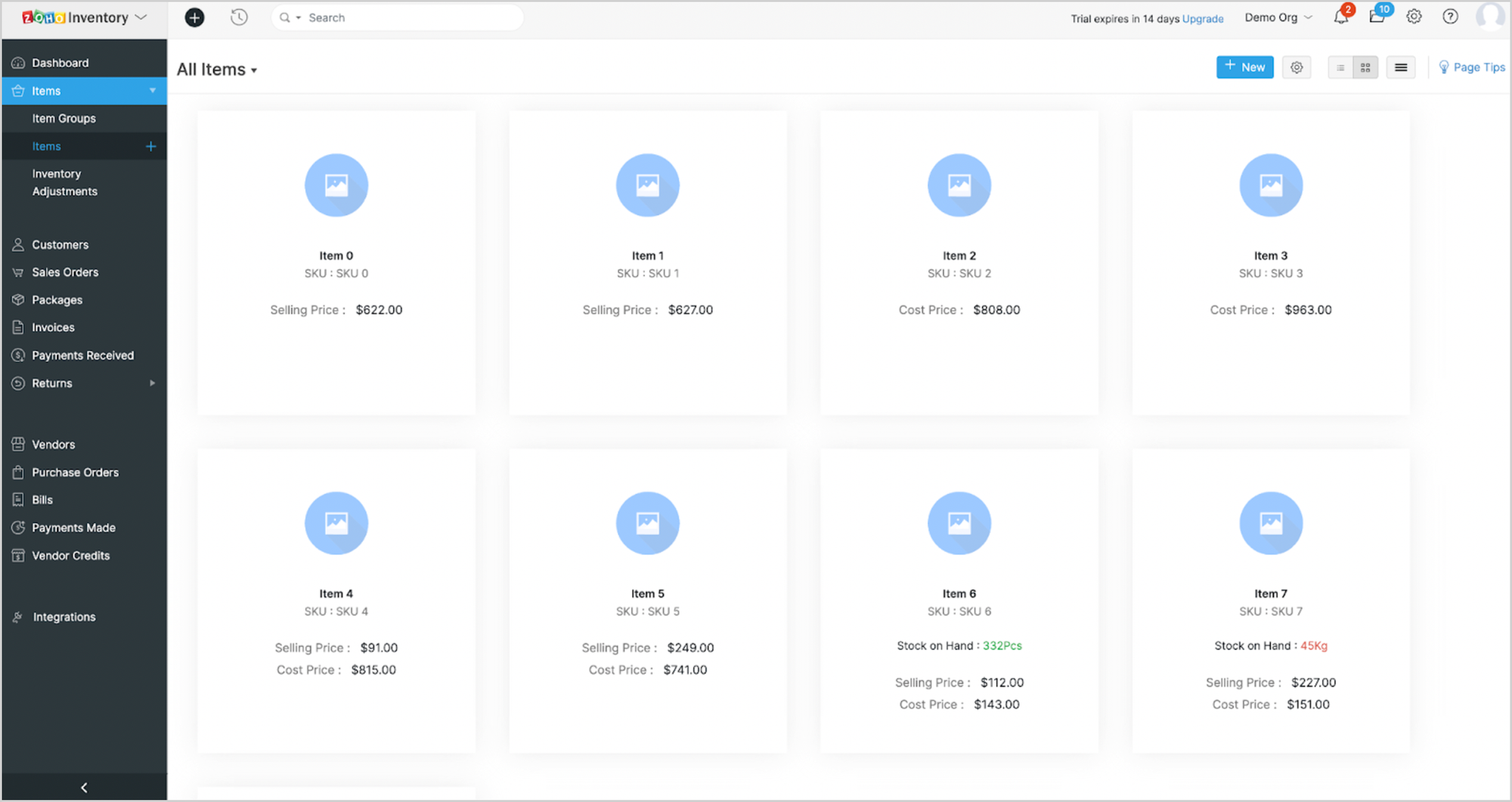 BoxHero: Unlike Zoho Inventory, all menu structures are simple and specifically designed for inventory management. Inventory-related menus such as product list in/out, adjust, history, inventory link are intuitively named so even beginners can learn quickly. By using the purchase & sales menu provided as a beta feature, you can manage the cumbersome ordering and sales processes in a simplified way by checking through 'Purchase/Sales → Inventory Inspection → In/Out'.
In addition to being able to check the inventory status by product (product list), you can quickly understand the overall inventory status that changes in real-time through a concise UI/UX (history). When adding a product, you can freely add the items you want using the attribute feature, making it convenient to customize and register product information.
💡
Learn more about how to use the
history
menu more effectively
here
!
2. Pricing Policy
Zoho Inventory: You can try out the app for free with a 14-day trial. It also offers a free option where 2 members from 1 location can use inventory management and track up to 50 orders and deliveries per month. However, the free trial period is relatively short, and even if you use the free option, the quantity of order and delivery tracking features is limited, so you have to switch to the paid option to utilize it for business. Paid options include the choice of one among Standard, Professional, Premium, Elite, and Ultimate. The more advanced option you choose, the more monthly orders and delivery tracking you get, and more features are provided. However, the subscription cost is relatively expensive, ranging from $59 to $329 per month (based on annual payment), and the wide range of options make it difficult to decide.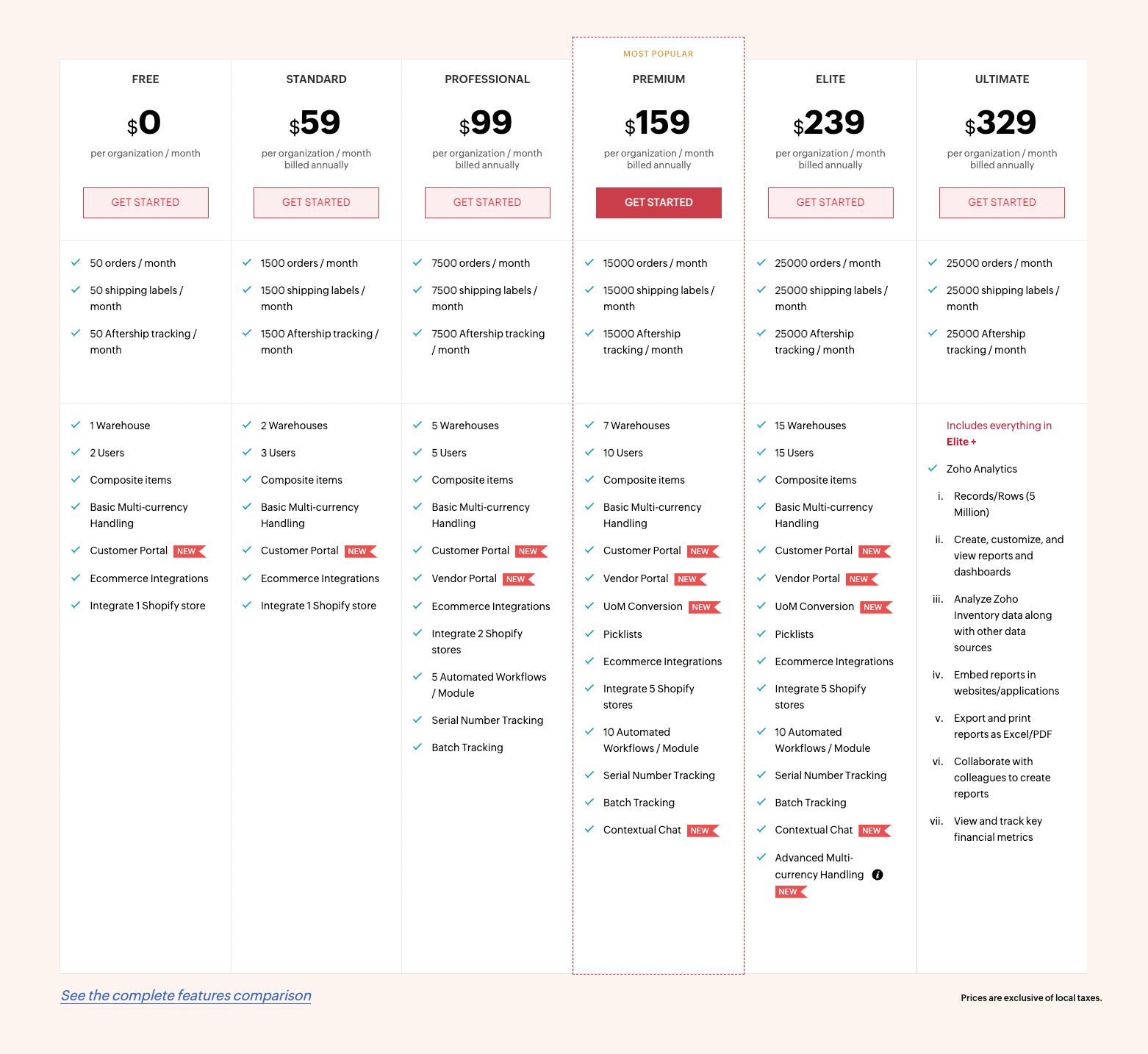 BoxHero: Like Zoho Inventory, you can select a free individual plan with limited features or try out all features with a 30-day free trial. The generous 30-day trial period is useful for thoroughly experiencing all the features of BoxHero. After the free trial, you can switch to a relatively inexpensive single option at $18 per month (annual payment). Business plan users can manage inventory of up to 1,000 products, regardless of the number of orders and sales. As your business grows and the number of members, locations, and items increases, you only need to pay additional fees as needed.
3. App Integration
Zoho Inventory: It supports integration with a variety of platforms, such as e-commerce companies like Amazon, Etsy, shipping companies like UPS, DHL, and marketing companies like Salesforce, Mail Chimp. You can also connect and use Zoho's cloud-based business software apps and third-party apps.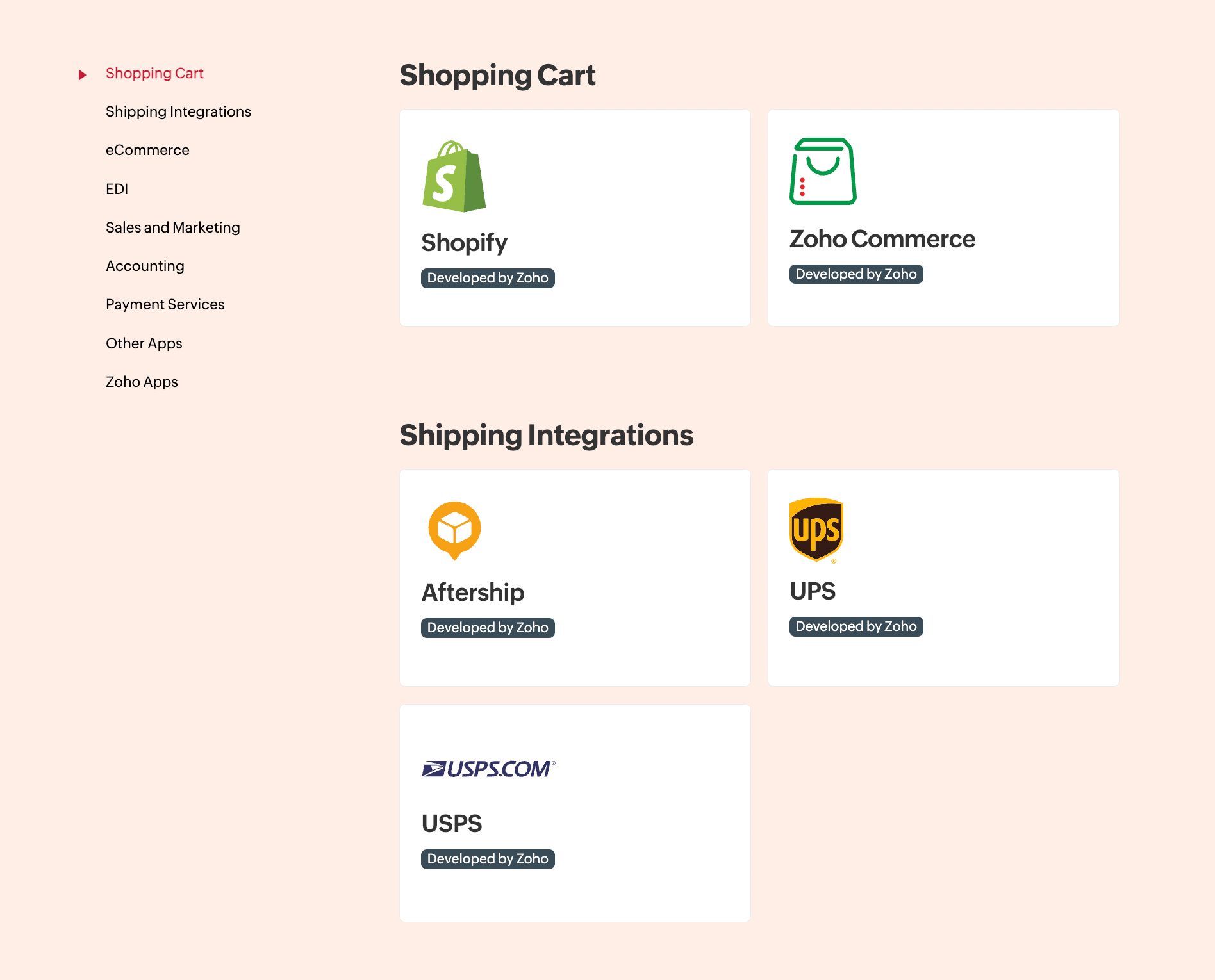 BoxHero: Although it previously supported integration with Shopify and Naver SmartStore, it currently does not provide integration with other apps, including open APIs. However, in order to enhance the convenience of more customers, BoxHero plans to support new features such as open APIs according to the development agenda.
4. Other Features
Zoho Inventory: You can analyze and visualize data from order to delivery by connecting it with Zoho Analytics. It also provides features that allow you to converse with an AI assistant and automatically generate insights with a single click. However, the link with Zoho Analytics is only provided in the Ultimate option, which requires a monthly payment of $329 (annual payment).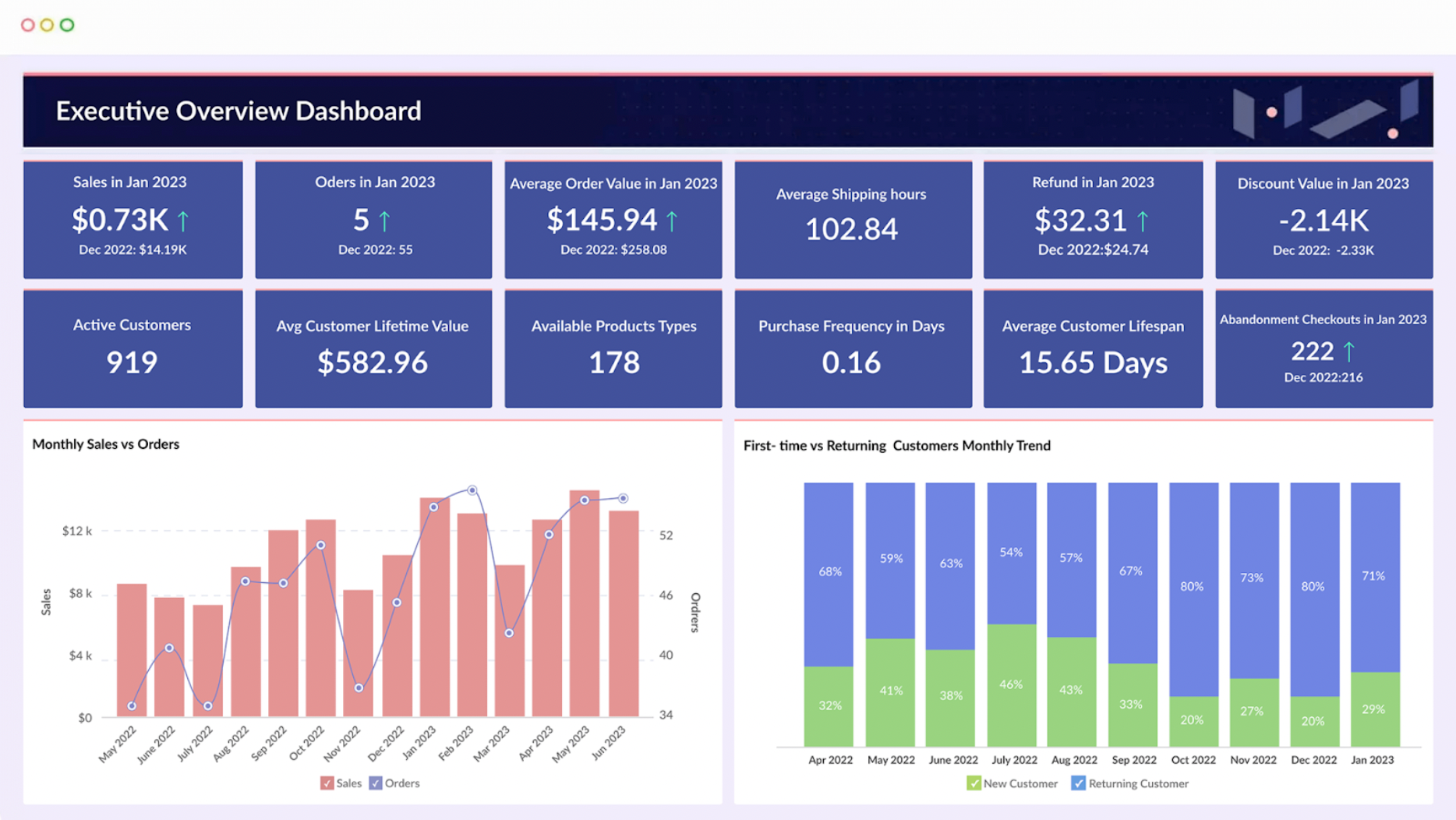 BoxHero: With Reports available to all business plan users, you can gain various insights needed for inventory management. The Dashboard visualizes the inventory status for the day and the past month, and the admin receives this information as a weekly email report. In Analysis, you can set up your own formulas to generate statistics using inventory data, and you can export this to an Excel file for use in reporting.
Zoho Inventory is recommended for organizations that need an all-in-one solution that manages inventory, procurement, sales, and shipping management, even at a high cost. On the other hand, BoxHero is recommended for organizations that want a simplified, straightforward inventory management experience. Choosing the right inventory management product is crucial to achieving your organization's goals efficiently.
---
Click the button below to experience all the features of Boxhero without any hassle. By using and experiencing it firsthand, choosing the inventory management app that suits your business needs will become much easier!